Concrete polishing – main benefits of concrete floor polishing
"Green technology" While using this technology, the use of fillers, waxes, polyurethanes, solvents or volatile organic compounds is not necessary. Our machines are equipped with industrial hoovers that ensure dust- and dirt-free service. Concrete floors are odourless, are not flammable and are not harmful for health or the environment.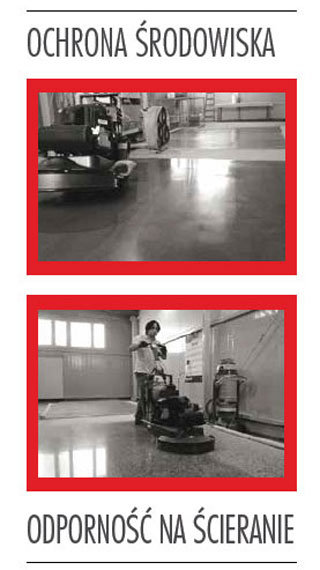 Polished concrete floor is flatter, which makes it harder and more resistant compared to an ordinary concrete floor. Its wear-and-tear resistance is 2-5 times higher and its crush resistance is 40% higher.
This method gives the lowest unit cost per 1 square meter of surface, compared to the other methods of floor finishing. It is clear that the maintenance cost of polished concrete floor is small compared to the costs of maintaining ceramic tiled floor, polymer floor or maintenance of carpet floors etc. According to the research conducted by the National Terrazo and Mosaic Association you can spot the difference after comparing the maintenance costs of industrial floor per square meter.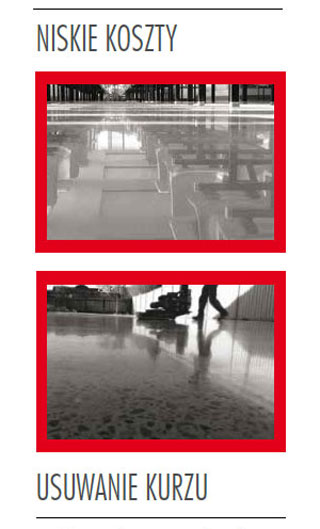 Resin penetrates the floor up to 1-4mm and locks the salt in the concrete, which prevents dust formation on the surface. Polished concrete floor can make the room look brighter, the light reflection increases between 25-45% compared to a regular concrete floor. Flat owners can save up to 15-20% on lighting expenses.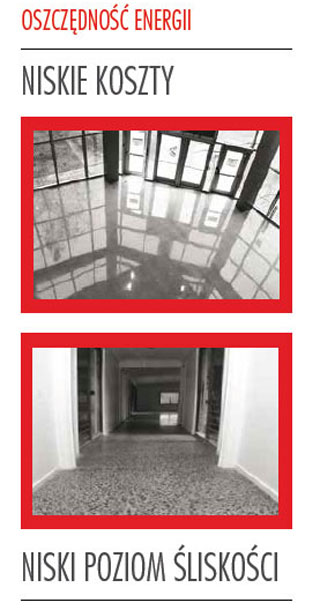 Polished concrete floor can achieve beautiful high gloss finish, and it is not slippery at the same time. This unique quality is achieved thanks to the application of modern technologies and polishing that hardens the material. Polished concrete floors have been tested and certified in the US. They are approved and recommended by "The National Floor Safety Institute".
Concrete floor is a hard coat surface that is wear resistant. It fully prevents the dust formation on the surface and is resistant to water penetration, at the same time enabling the absorption of the air particles into the concrete, leaving the concrete "breathable". Special hardeners cure and protect the coating.
OIL, FUEL, AND GREASE PROTECTION
ENVIRONMENTAL PROTECTION
WEAR-AND-TEAR RESISTANCE
LOW COST
EASY DUST REMOVAL
ENERGY SAVING
NON-SLIP SURFACE
WATER RESISTANCE
LOW MAINTENANCE COST
DURABILITY AND SUSTAINABILITY
HIGH-GLOSS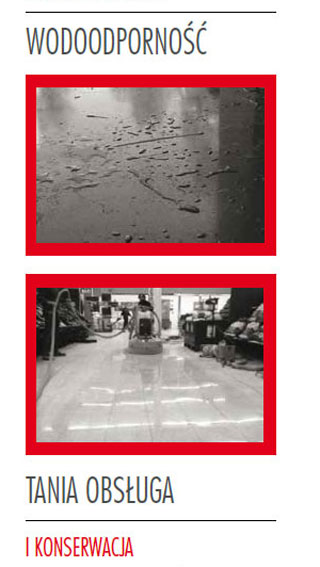 Cleaning and maintenance of polished concrete is simple and cost-efficient. In addition to regular everyday cleaning It only requires polishing every 5 to 7 years (in some cases even less often). A polished concrete floor is extremely hard and resistant, it prevents the absorption of oil and other materials as well as the formation of tyre marks on the surface. The wear-and-tear resistance and low maintenance costs allow you to keep the floor in top condition for many years. Very rarely (once every 4 to 7 years) special maintenance works are required in the most exposed places.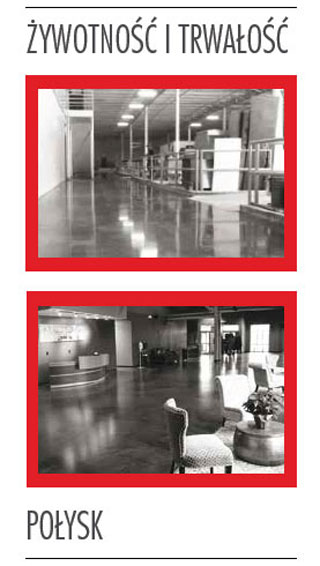 Polerowana posadzka betonowa ma wysoki połysk, a jednocześnie w ogóle nie jest śliska. To jest wyjątkowa jakość uzyskana dzięki zastosowaniu nowoczesnych technologii i utwardzającego polerowania. Polerowane posadzki betonowe zostały przetestowane i certyfikowane w USA, są zatwierdzone i polecane przez "The National Floor Safety Institute".